Our company is involved in comprehensive servicing of construction projects:
We prepare grant requests and complete all required documents
We also prepare building permit design and investment cost estimate
We are ready to implement all types of projects
We provide help in project accounts until you get reimbursement of incurred investor expenditures
Our clients can use our professional and free of charge advisory services concerning EU grant requests, construction of livestock facility, and its specialist equipment.
Taking your expectations into consideration, our personnel will conform the scope of works and services according to your needs.
Livestock facilities can be divided into three types of buildings:
pavilion buildings – layout can be line, comb, ring, fan like, star-shaped, with individual detached buildings.
block buildings – buildings of different kind and purpose, connected in one functional system.
monoblock buildings – production process is concentrated in one compact building
---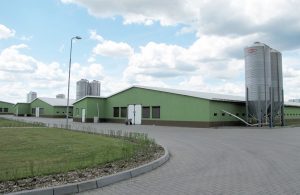 Construction of livestock facilities provides opportunity to use different technological and functional-spatial solutions. Depending on purpose, they can be divided into:
Cattle buildings (barns, heifer buildings, newborn calf buildings, yearling buildings).
Swine buildings (pigpens, growing houses, piglet houses, sow and boar houses, fattening houses).
Sheep buildings (sheepcotes, growing houses, lamb fattening houses, ram houses, watering houses).
Hen buildings (growing houses, hen houses, battery farms).
Turkey buildings (growing houses, battery farms, reproduction houses).
Duck buildings (duck houses).
Goose buildings (goose houses).
One of the main factors which influences farm animal breeding are micro-climate parametres in livestock facilities. During the construction of this type of buildings it is essential to properly design and make both thermal insulation and electrical installation. Temperature, humidity and light must be within optimal values for particular species of animals.
Respecting your time, we always have in mind the importance of professional counseling, reliability, and completion of tasks in a timely manner, which results in proper work management and guarantees your satisfaction!